5 Questions to Ask Before Joining a Coworking Space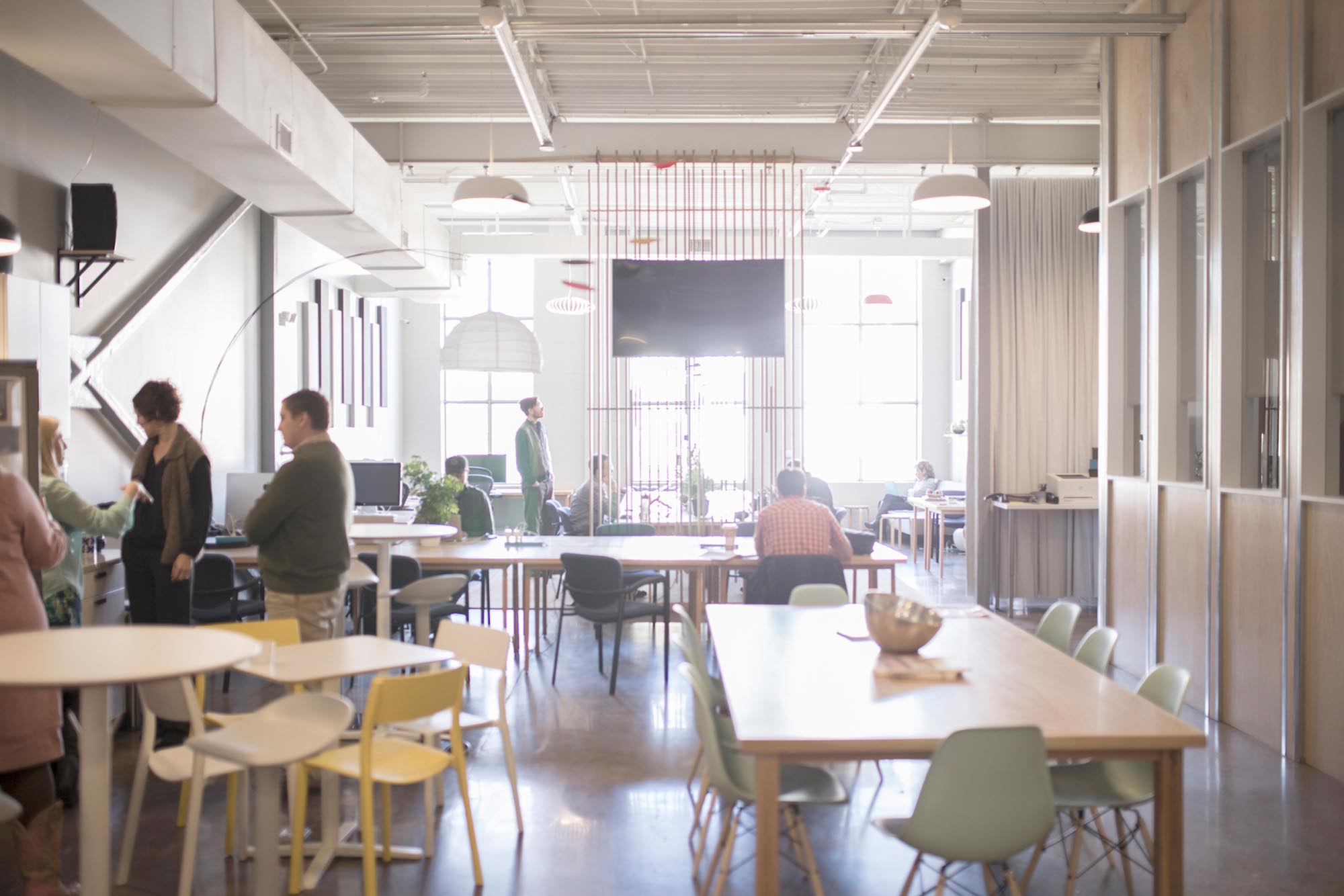 When I started my solopreneur journey recently in Asheville, NC, I knew I wanted to check out some of the coworking space options in town. I'm more productive in an office than I am at home, and as a freelance web developer and marketer who works alone (aside from communicating with my clients, of course), I find myself missing the community and collaboration that working in an office provides.
As the gig economy continues to grow (it's expected to make up around 43% of the workforce by 2020), so does the popularity of coworking spaces. Entrepreneurs, freelancers, and remote workers from all walks of life are looking for practical workspaces – working from home is tough, especially for those with families/roommates at home, and office space is not always affordable. So for many, coworking is the most viable option.
Not all of these facilities are the same, but generally, a coworking space is a combination of small, private offices for rent and a large, open space with desks, couches, and a cafe-type space. Typically, there are varying membership levels which are based on the amount of privacy you desire and how often you need to utilize shared conference and meeting spaces.
Sometimes a coworking facility has a niche. For example, you can find real-estate centric spaces, facilities just for women that also function as social clubs, and workshop-type spaces where artisans have access to heavy-duty tools. However, the majority of coworking spaces are designed for folks working in technology-related fields – no power tools or file cabinets required.
Coworking was a no-brainer for me, so I set out to find a quiet, aesthetically pleasing space with ample opportunities for networking with other creatives and small business owners. I did some research and came up with five questions to ask about each coworking space in Asheville.
How does your pricing compare to other spaces in the area?

Sticking to a budget is always important in business, and as a startup, I don't have much wiggle room anyway. Plus, I knew I wouldn't use the space five days a week, every week, so I wanted to know which spaces were the least expensive. Consider what your priorities are – if you originally budgeted money to rent a private office, you can probably afford a basic membership at any coworking space in town (in fact, you'll likely save money).
Is parking included?

If you don't have to drive to work, lucky you! But in most major cities in North Carolina, the majority of folks commute to and from work by car. I live ten minutes from downtown by car, so easy parking was a must for me.
What's your noise policy? I toured a few facilities and found that some were noisier than others. Finding a quiet space was a priority of mine. The coworking space I joined (Hatchworks Coworking

) has a perfectly reasonable "inside voice" rule – just like a library! And unless there's an event going on, it stays pretty quiet.
Will I have access to meeting/conference rooms? If you need to host meetings often, ask a lot of questions about access to meeting and conference rooms. At my new space, my "Flex" membership level allows me one reservation of the large conference room each month, and use of the smaller meeting rooms when they're available. But so far I've found that this is flexible – if the spaces aren't reserved, members are welcome to use them.

How often do you hold private events? (And, as a follow-up, is the space open or closed during these private events?)

Coworking spaces are often marketed as event spaces as well, so it's important to ask how frequently a facility is used for events, and whether you'll still have a space to work during those events. For instance, Hatchworks holds monthly lunch and learn events on various topics, but part of the room is blocked off for folks who need to go about their usual business during that time.
There are, of course, other important considerations to make – location, physical size/capacity, and in my case, proximity to good coffee and my favorite Thai restaurant – but the questions above will give you a good idea of what a coworking "culture" is like and how much value you'll get for your money.
Do you have a favorite coworking space? Why do you love it? Comment below!